Natural Craving is the Natural Choice for Your Dog's Chewing Needs. Natural Cravings USA believes that quality starts at home. And When Patrick discovered that many of the chews on the market were lacking something for his pup Clapton he set out to create a healthy USA-quality chew. All of the proteins used here at Natural Cravings are treated humanely, sustainably sourced, and raised without antibiotics, to ensure your pup gets the best nutrition with their chew.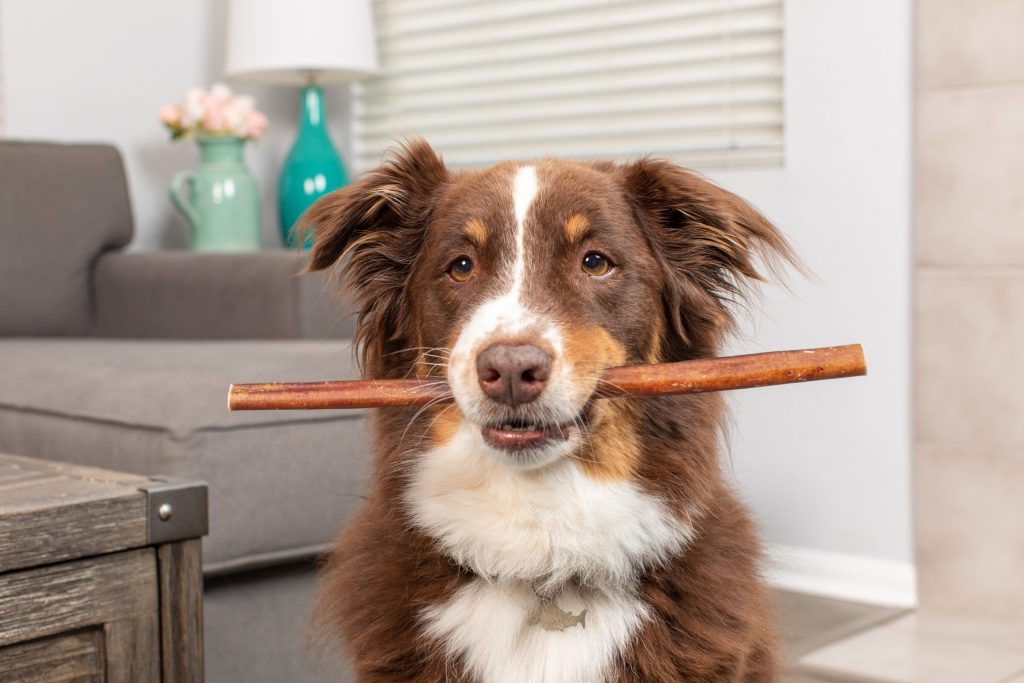 At Natural Cravings, we source everything in the USA, this process starts with our USA livestock, and continues with our manufacturing and packaging in our warehouse in Homestead, Florida. We offer single ingredient products such as bully sticks and chews as well as treats with limited ingredients that remain healthy and at the same time delicious for your pet! Our entire line is slow roasted in human grade ovens to guarantee high quality while maximizing flavor for your four-legged fur friend.
Our food should be our medicine
and our medicine should be our food!
It all started with Patrick Caprez and his first son Clapton, a terrier-mix he rescued from a local animal shelter. Patrick wanted to give him the best food and treats so Clapton could have a happy, long and healthy life. Patrick began researching what was available for dogs and found that by making his own treats he would know exactly the nutrition Clapton was receiving. This is when the idea came to create a product line that was sustainable, safe, and flavorful. His demand for high quality and results-based food sources helped springboard his first brand, Natural Cravings to national status.
Patrick is a product of the Midwest, born and raised in Akron, Ohio. His strong Midwest upbringing and demand for quality products have been a staple in the creation of both of his brands. His high level of customer service and attention to quality has made his company grow quickly to become a national brand that currently reaches all 50 states and serves thousands of stores!
For several years Patrick has been an active participant in several animal rescues and animal welfare causes. As an animal advocate, he is a firm believer that we have an obligation to help the animals who can't help themselves. After 20 years of executive level positions in Corporate America, Patrick decided that it was time to leave the corporate world and start a pet treat brand that had a purpose, and that is exactly what he did! 
Lucy is an experienced Marketing Director with over 10 years of experience. She has a strong skill set in strategy and branding. Lucy is a proud graduate of University of Miami where she received her bachelor's in Business Administration with a BBA focused in Marketing. She later went on to start her own business in the chocolate industry but her passion and love for animals brought her into the pet industry.
Lucy is an inspirational leader committed to nurturing pet health, she strives to find the best products and ingredients on the market to provide for her pets and other's furry friends, all while remaining conscious of sustainability to help the environment. With an innate ability to connect with others and a thrive for excellence, Lucy is a go-to leader in the pet industry and has helped create better customer relationships through social media, content marketing and public relations as she was selected Pet Age's Woman of Influence Winner in 2020. Lucy loves to give back as she supports no kill shelters and has adopted many of her pets. 
Sandy Ester, President of Tasting
Sandy Ester is officially a Big Baby as she just turned 14 years old in January 2021. She is a rescue found lost on the side of a main avenue. She has been since living her best life enjoying her mom and dad spoiling her (as she deserves it) with treats and tons of love. Being that she is a Senior she is not into working hard for anything so treats are her favorite thing. Her most favorite is Green Lamb Tripe very stinky and very YUM, it also helps her gut health stay balanced and well.  
Henry Alexander, VP of Tasting 
Henry Alexander is a terrier mix who loves to run full speed and take sharp turns to confuse his chaser. He is a rescue found on a blanket on the side of the road as a puppy and now lives blissfully in his fur-ever home. He loves Braided Bully Sticks, and Jumbo Bully Sticks! He is very much a leader of his pack but looks up the most to his dad, Patrick who loves to him very much.  
Ruby Rose, Tasting Executive of the Board
Ruby Rose is a terrier/schnauzer adopted from The Florida Little Dog Rescue. She loves chasing her brother Henry and her sister from another mister Pogo as well as getting as dirty as possible so mom has to bathe her again, and again, and again with Buddha Bubbles!. She loves to eat her favorite Beef Weasand Chews when she performs her highly anticipated trick of "sit". She is very much Mom's baby and loves to remain as such –she says.  
Pogo Lynn, Junior Tasting Officer
Pogo is a happy camper who loves to cuddle and is training to become a service dog in a few months. She was recently adopted from Rottweilers Vom House Franeta. She enjoys walks in the park and random visits to the beach where she learns to stay in place and gets to be exposed to other dogs and people without getting too excited. Her favorite treats are Large Beef Cheek Slices and Peanut Butter Cow Ears which she gets after working hard on her "sit, stay, down, heel, place" and many more she is working on learning. She says she keeps her skin and coat healthy and shiny with Organic Buddha Bubbles.  
Prince William (16 lb. yellow tabby)
Brother of Kate (pictured below), currently working on his nap schedule. He loves midnight kisses and waking up mom just because…? He is not into dog treats (and not impressed by much, really) but definitely supports our family brands Natural Cravings and Barking Buddha! He does not approve of anyone calling out his weight in public but does want everyone to know that he is a rescue from This Is The Dog! and yes, they have pretty kitties too.  
Princess Kate (calico)
Sister of William (pictured above), not interested in small talk, she is a kitty of action. She lives her independent life as she wants taking naps and pretty much that's it! She has expressed interest in learning more about her family brands Natural Cravings and Barking Buddha! She approves of kisses and This Is The Dog!, the rescue organization that found her and her brother about 10 years ago.